2021 Spirit of Queens Honorees
Elmhurst Hospital
Every year the Queens World Film Festival selects a filmmaker or a community member who has displayed great leadership with its "Spirit of Queens Award". We are proud to announce that this year the award is presented to the entire heroic staff of the Elmhurst Hospital Center.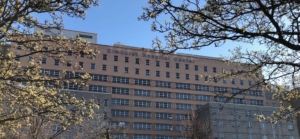 When New York City closed non-essential businesses, Elmhurst General Hospital in Queens, NYC otherwise known as Ground Zero, took on a deluge of pain and suffering. 
The eerie silence underneath the constant sirens was interrupted only by the 7:00 pm bells.   
For months the Heroes of Elmhurst treated patients in every available space and risked their own lives to provide hope to those suffering alone. The story has not ended. To date over 54,000 people have been discharged, 3.8 million covid tests have been administered, and 260,000 vaccines delivered. 
And 5,997 staff members deserve a standing ovation.  
Join us as we celebrate our 2021 Spirit of Queens Honorees. 
The entire staff of Elmhurst Hospital!
Queens World is prepared to shine a light on the hospital with a slate of screenings, presentations, and other surprises that reflect our Boroughs' gratitude. 
Play a starring role in honoring the Healthcare Workers who have seen us through by purchasing a season pass for an Elmhurst Staff Member for only $10 ($150 value) that will allow each household to have two screens running with unlimited access to all virtual screenings. Further, one third of the ticket price will be donated back to Elmhurst Hospital for support services for their staff.
Queens World is also providing the staff with 'Movies on the Menu' an ongoing lunch time screenings for staff that will provide a little respite from the stress of their workday. These screenings will run for a year. To help with this effort, please consider Supporting the Heroes of Elmhurst Hospital! 
301
Tickets Sold!
Help Us Sell ALL 5,997 Tickets for the Heroes of Elmhurst!