2022 Spirit of Queens Honoree: Ellen Kodadek
"Participating in an international film festival here in Queens is exciting. Queens World celebrates the voices of both emerging and masterful artists from across the globe and it is an honor to welcome the festival to Flushing Town Hall and to share the Spirit of Queens honors with my colleagues."
– Ellen Kodadek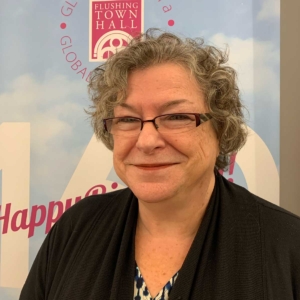 Ellen Kodadek has served as the Executive and Artistic Director of Flushing Town Hall since 2008, a Smithsonian Affiliate and member of NYC's 34-member Cultural Institutions Group.  Along with the stellar, "tiny but mighty" staff she has built, Kodadek has significantly expanded cultural and arts programming, maintaining the institution's strong jazz legacy and increasing multi-disciplinary global arts programming. Since taking the helm, Kodadek paid off significant, inherited institutional debt and accumulated deficit; established a cash reserve; delivered 14 out of 15 years in the "black" (one year in the "red" due to a 6-month theatre renovation); completed multiple capital projects including renovations and enhancements of the venue's theatre, portico, historic exterior, portico, garden, and parking lots; expanded and diversified staff, and implemented signature programming to attract wider, more diverse audiences from across New York City and beyond.  Among signature programs she has launched is an ongoing popular cross-cultural series, Global Mashups; the expansion of education and family programming, unifying it (aesthetically & thematically) with mainstage programming under the umbrella Global Arts for Global Kids. She also has developed a Chinese Cultural Committee to forge stronger ties with New York City's Chinese community; a Space Grant that provides use of the facility for artists developing work, and a successful pivot to over 400 online programs and weekly Artist Zoom Hangs during the Covid-19 lockdown.  Kodadek is a strong believer in partnerships and collaborations, developing relationships and projects with Asian American Arts Alliance, Indo-American Arts Council, NY Phil Bandwagon, Orchestra of St. Luke's, among others.
Kodadek has more than 40 years' experience in non-profit arts administration, including multi-disciplinary program development and implementation, public relations and marketing, fundraising and managerial oversight. Previously, she served as Chief Executive Officer of Southern Tier Celebrates in Binghamton, New York, facilitating the merger of two non-profit organizations, First Night Binghamton and the Binghamton Summer Music Festival; expanding both programs into a year-round multi-disciplinary arts organization, including arts-education programs, arts-enrichment for underserved audiences, such as seniors and at-risk youth, and multiple community revitalization initiatives. 
Prior to that, Kodadek served as Director of Presentations as well as Director of Public Relations and Marketing for Snug Harbor Cultural Center in Staten Island, New York.  Consulting projects have included serving as Management Consultant and Co-Artistic Director to 171 Cedar Arts Center in Corning, New York, and, Management Consultant to Lincoln Center for the Performing Arts' Reel to Real "On the Road" Program.  
Kodadek is the recipient of multiple awards, including Community Leader award from Treehouse Shakers, , Community Leader award from Chinese Theatre Works, Times Ledger's Queens Impact Award, Queens Courier Top Women in Business Award, Binghamton Mayor's first Restore the Pride Award for Community Development, Broome County Arts Council Heart of the Arts Award, and others.  Kodadek has served on numerous committees, as an invited speaker on programming, presenter-artist relationships, festivals and outdoor presenting; and, on numerous grants panels.  Kodadek sits on the Advisory Board of the Lewis Latimer House Museum, Arts Advisory Board of Queens College Kupferberg Center for the Performing, Queens Rising Steering, Advisory and Planning Committees, as Queens Rising Programming Committee Co-Chair; Mid-Atlantic Arts Foundations' Jazz Touring Network; NYC City Artist Corps Coalition, Queens Chamber of Commerce's Arts and Entertainment Committee.